1. At your Author Profile/Record, click the number of papers directly to view all the publications;
2. At the results page, scroll down to 'Document Types' at the left side-bar. Refine the results to articles, review articles, proceeding papers, book chapters, early access. Do not include erratum/correction(s), meeting abstracts, editorial materials, letters and author's replies. (This is to ensure alignment with the guidelines provided by the NTU Promotion and Tenure Review Committee.)

3. With the 'Document Types' filter applied (see highlight), select only publications that belong to you. Click on < or > to go through all the pages.

4. Click on 'Add to Marked List'. Select 'Create new list' if you have not created one.
Using a Marked List (*Important step*)
By saving your publications as a Marked List, you can (i) instantly generate a Web of Science citation report from it, and (ii) easily return to update your Marked List whenever there are changes.
We recommend that you save your Marked List in the format: [your name]_[search dateYYYYMMDD]. For example, AloysiusSmith_20220115.xls.

5. You could also save the entire set of results and remove any incorrect publications later. To do so, specify the range of records to save. Enter '1' for the first number and the last number based on your list. Click 'Add'.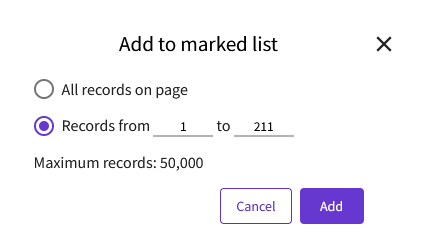 Need to Add Missing Publications?
If you need to add missing publications to your marked list, follow these steps:
1. First make sure that you have already created a Marked List.
2. Go to the Web of Science search page, search under 'Documents' for the missing publications:
3. Add the missing publications to the earlier created Marked List:
4. There could be a small number of cases where the articles were not indexed by Web of Science even though the journal could have been indexed in Web of Science. In this case, report the problem to Web of Science via the online form 'Data Change & Missing Article/Journal Issue Request'. To check if Web of Science indexes a particular journal, click here to search.
Need to Remove Publications?
If you need to remove any publications in your Marked List eg. wrongly indexed by Web of Science or which you do not wish them to be included, follow these steps:
1. Go to your earlier created Marked List.
2. Select the relevant publications and click 'Remove':
---
Footnote: Correcting your Author Profile/Record (*Optional*)
If publications are wrongly attributed to your Author Profile/Record, you may submit a correction request in WoS as follow:
At your Author Profile, click on "How do I correct this record?" Note: *Corrections to Author Profiles need 3-5 days to be reflected*.