Skip to Main Content
It looks like you're using Internet Explorer 11 or older. This website works best with modern browsers such as the latest versions of Chrome, Firefox, Safari, and Edge. If you continue with this browser, you may see unexpected results.
Design Thinking Fundamentals
Introduction to Design Thinking
According to ACRL, Design Thinking "is an iterative, human-centered approach to understanding the needs of a specific group and developing services, spaces, and products in response." (ACRL, 2020).
Design Thinking Principles:
user-centric and action-oriented approach
comfortable with change
observe and Evaluates problems/issues/challenges through emotions and sensitivity
integrate foresight
dynamic
promotes empathy
reduce risks
create meaning
uplifts enterprise creativity
new competitive logic of business strategy
Human Needs
Design Thinking requires us to know the 6 human needs with respect to problem-solving. They are namely:
Certainty
Variety
Unique/Significance
Connection/Love
Growth
Contribution
Senior Librarian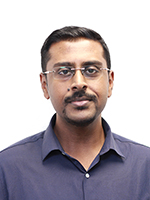 V Somasundram
Librarian
Vincent Wong