Skip to Main Content
It looks like you're using Internet Explorer 11 or older. This website works best with modern browsers such as the latest versions of Chrome, Firefox, Safari, and Edge. If you continue with this browser, you may see unexpected results.
Need help?
Consult Library FAQs
Enquiries about Library Resources
Requests for New Resources
Library Orientation & Tours
Instructional Classes
Research Assistance
Email: library@ntu.edu.sg
Tel: (65) 6790 5776
Get Expert Advice
Contact information experts for advice and consultation on your papers and research needs
Get Easy Access to Full Text
Install this bookmarklet to get easy access to articles or e-books subscribed by NTU Library
Visit NTU Library Homepage
About
This guide is created to serve as a general and introductory guide for those who are interested, or are currently studying or researching in Computer Science & Engineering. It contains selected resources curated by the librarians to get you started on the different topics in the discipline, in line with what the NTU's School of Computer Science & Engineering offers in their undergraduate and postgraduate programmes. For guides on a narrower subject or sub-disciplines of Computer Science & Engineering, please refer to the topic guides.
This LibGuide is structured as such: the selected resources are divided into separate sections of Books (including print and e-book) and eResources (includes e-Journals, online archives, and other online databases). A link directly to the resources is included, and in the case of print materials, a link to our Library Catalogue is included instead. Quick links to our library services and our contact details are featured here as well.
Other than the resources mentioned above, this guide also includes the page Student Works and Faculty Publications, which will show you how to browse and search our institutional repository to find past student works and our faculty publications.
Please bear in mind that this is not intended as a comprehensive guide.
Librarian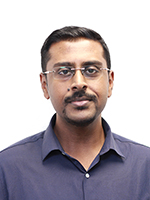 V Somasundram
Librarian
Lena Sam