Skip to Main Content
It looks like you're using Internet Explorer 11 or older. This website works best with modern browsers such as the latest versions of Chrome, Firefox, Safari, and Edge. If you continue with this browser, you may see unexpected results.
Senior Librarian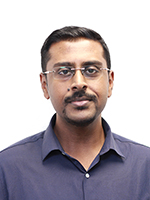 V Somasundram
Introduction
Soma is the Team Lead (Acting) for NTU Library's Service Innovation and Excellence team.
Educational Qualifications
Master of Science (Information Studies), Nanyang Technological University, 2013
Bachelor of Science (Information and Communication Technology), Singapore University of Social Sciences, 2010
Professional Experience, Specialisation & Memberships
After completing his National Service, Soma joined a regional business process management service provider, where he was based in a multinational company for a year.
In 2007, he joined NTU as a library officer in the Art, Design & Media Library while pursuing his part-time degree in Information & Communications technology. In 2011, he progressed to Art Librarian for media arts & Assistant Librarian at the then Library Promotion Division where his responsibilities included managing the social media marketing strategy for the Library & initiating collaborative projects with student bodies. In recognition of his initiatives, he was awarded the Library Association of Singapore's Outstanding Newcomer Award 2013 by the then President of the Republic of Singapore, Mr Tony Tan Keng Yam.
In 2016, he progressed to Senior Librarian in Library Technology Group, where he identified IT & AV needs and coordinated their deployment in the library spaces, followed by Advisory & Consultation librarian for Engineering & Science & Academic Engagement librarian due to his interest in user experience and liaison librarianship.
Honours, Awards & Achievements
SAS Service Excellence Service Innovator Award 2020-21
NTU Admin Excellence - Extra Mile Award (Team) 2020
NTU Admin Excellence - Extra Mile Award (Individual) 2020
Outstanding Newcomer Award, Library Association of Singapore, 2013
Best Soldier of the Month (June 2006), HQ 2nd People's Defence Force, Singapore Armed Forces, 2006
Publications, Presentations & Works
Publications:
Tan, C., Sum, H., Seah, F., Somasundram, V., & Wong, E. (2012). Asia-Pacific libraries on Facebook: Content analysis on posts and interactions. Singapore Journal of Library & Information Management, 41, 65-88. Available at http://dr.ntu.edu.sg/handle/10220/9435
Presentations :
Sin, S.-C. J., Wong, J. P. H., Somasundram, V., & Nurashikin Mohamed Jasni. (2014, May). Convergence or divergence between national and international journals? Subject and collaboration trends in Singapore's LIS research. Paper presented at the 6th Qualitative and Quantitative Methods in Libraries International Conference, Istanbul, Turkey.

Somasundram, V., & Binte Mohamed Jasni, Nurashikin (2011). Youth to youth : paraprofessional in NTU Libraries (Singapore). Paper presented at the Australian Library and Information Association National Library & Information Technicians Conference (LIBTEC), Perth, Australia.
Latest Blog Posts by Somasundram